Finish 2023 strong by taking care of yourself
No matter how you divide up the 2023 calendar year, there are still 365 days in it. If you work full-time with 21 days of annual leave, you'll have 245 working days to achieve whatever it is you want to achieve professionally, and a little bit more time for what you want to achieve personally. For some that idea can be daunting however it doesn't have to be. In order to achieve your goals, you need consistent habits to support them. To maintain consistency, you need to take care of your physical and mental health.
Taking care of your mind is just as important as taking care of your body. Unfortunately, it's easy to forget that in the busyness of the day-to-day. After all, it's obvious if you exercised instead of watching TV or ate salmon for dinner rather than fried chicken. How you treat your mind is usually less visible and more difficult to track.
To stay on top of things, it helps to develop easy habits that fit into your usual routines. That way making smart choices become more automatic. Here are some suggested habits for you on how you can support your mental health across 2023. These habits fit neatly into two areas: taking care of yourself; and connecting with others.
Taking care of yourself
1. Slow down - Multitasking increases your stress levels and can decrease your cognitive ability. When you find yourself rushing around, take a deep breath. Decide on your priorities and eliminate unnecessary commitments or distractions.
2. Get organized - Create simple systems and routines that will save you time and effort. Batch similar tasks together and use your energy as a guide of when to do the difficult and easy work.
3. Track your activities - Start by planning out how you are going to achieve your 2023 goals and track your progress. Recognizing progress has been made is a core element of building self-efficacy and it'll remind you how far you've come after a couple of months.
4. Shift your attention - Do you dwell on disappointments and overlook the positive events that happen each day? Start a journal to remind you of the things that went well in your day and to record what you're thankful for.
5. Listen to music - Your favorite songs can lift your spirits and give you more energy especially when you're feeling depleted. Put together playlists to help your de-stress; perhaps one for exercising and another for emptying your mind at the end of the day.
6. Spend time outdoors - Bask in the sunshine. If you're working at home, take regular breaks outside. Spend time outdoors on your weekends.
7. Monitor media consumption - Disturbing news can weigh you down and comparing yourself to others on Facebook or Instagram can make you feel like you're missing out or not as good as others. Search for inspirational content and set limits on screen time.
8. Continue learning - Your brain needs healthy doses of intellectual stimulation. Read and take online courses. When talking to others, actively listen and be curious about what they have to say. You may be surprised about what you learn.
9. Move your body regularly - Physical exercise benefits your mind as well as your body. Any routine you enjoy will help.
10. Rest and relax - Sleep deprivation and chronic stress can interfere with your mood and cognitive abilities. Aim for no less than 6 hours of sleep a night, ideally 8 hours and take refreshing breaks throughout the day. Take time to reflect in solitude or while enjoying a soothing hobby.
11. Value yourself - Love and accept yourself for who you are. Treat yourself with kindness and compassion. Build your confidence by setting goals, allowing yourself to work towards achieving them and celebrating when you achieve them.
12. Focus on what you can control - Worrying about aspects of your plan that you can't control will lead to unnecessary anxiety. You can however see how you might influence them. However, your time and energy are best spent on focusing on what you can control.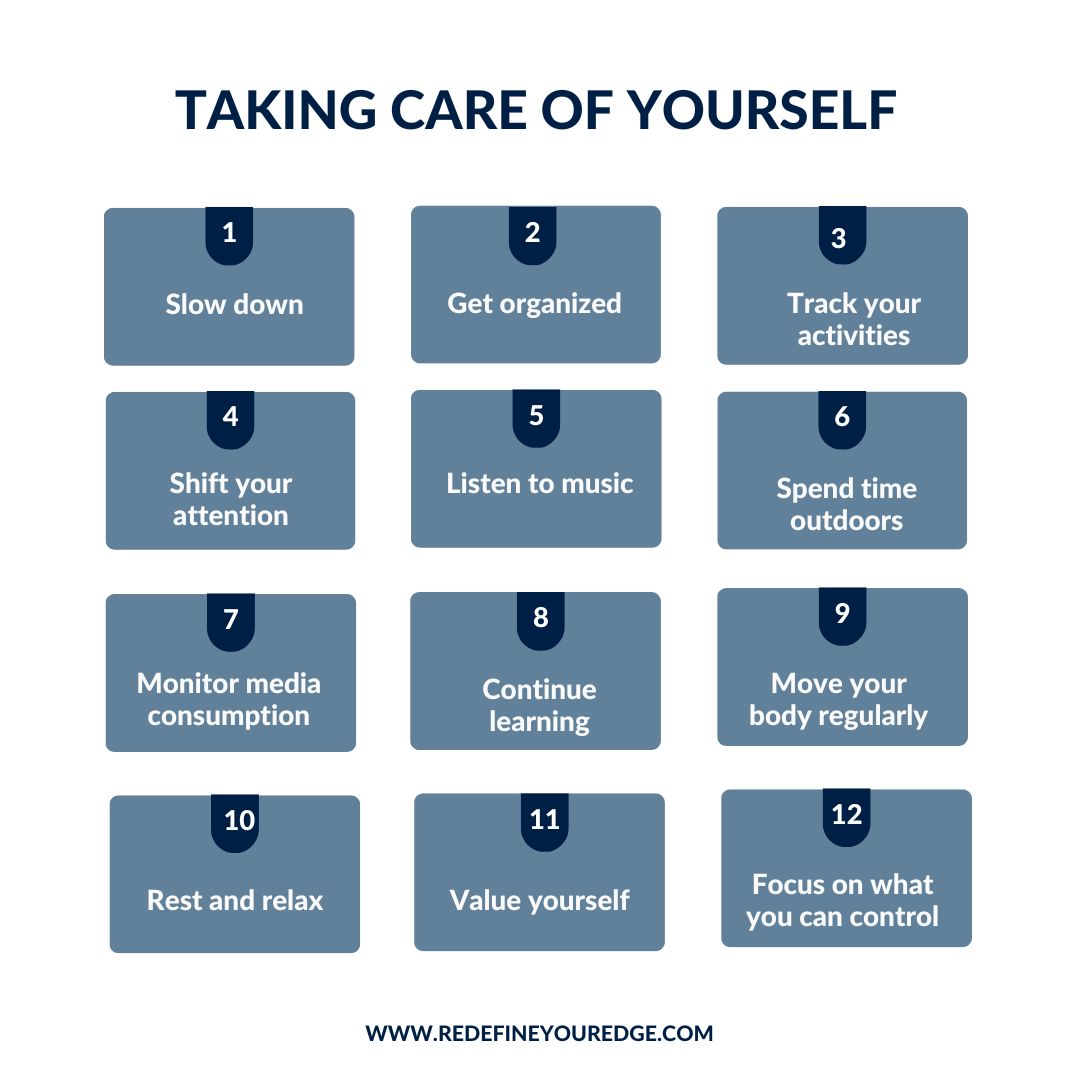 Connecting with others
1. Share your aspirations with people you trust - Enlist their support and let them know you appreciate and are open to constructive input. Use their comments to make positive changes. Thank them for their time and thoughtfulness.
2. Show appreciation - Strengthen your relationships by letting others know that they are important to you. Pay attention to what your friends and loved ones have to say. Remember their birthdays and send gifts and cards for no special occasion.
3. Gather together - Online communications work well as a supplement rather than a substitute for face-to-face interactions. Socialize offline with family dinners and have standing dates with friends.
4. Practice forgiveness - Let go of grudges and resentments. Encourage reconciliation and healing.
5. Share a laugh - Humor relieves anxiety and depression and can even serve as a natural painkiller. Tell funny stories about your personal life and pass along your favorite video clips starring pets and babies.
6. Set boundaries - Make a conscious decision about how you want others to treat you and what kind of behavior you find acceptable. This might include your expectations about privacy, communication, physical boundaries, and so on. As you set them ask yourself if you could achieve them for friends, family and colleagues. If so, clearly communicate them when appropriate so others are aware of your expectations.
7. Give generously - Helping others is a wonderful feeling. Manny comment on how they felt a warm glow inside when they helped someone out. Some research suggests that the mental health benefits are strongest when you know the recipient.
Developing routines that support your mental health are individual, as nobody has your exact experience or life skills. However, research provides a good guide about what could work for you. A suite of regular habits are recommended based on your personal needs and preferences and it is up to you to determine which are the most effective healthy options for you.
Nurturing your mind will help you to maintain the stamina you will no doubt need to finish 2023 strong, and to enjoy the journey that lays before you. All the best!
If you would like to talk to someone about your goals or lack thereof, book in a confidential call where we can explore what goals would make the most sense for you, because there is nothing worse than getting overwhelmed before you have started.